It's always a great treat and privilege to test a watch for a week or so, but it's even better when it's a timepiece on the level of the one I just sent back to DavidSW. The Omega Seamaster's connection to James Bond is long and storied, and has yielded more than a couple of special edition watches along the way. One of the latest is this: the Omega Seamaster 007 Edition in stunning titanium.
After wearing the watch for a week, I've fallen for it in a way I never thought I would. This particular special edition gathers all of the best features of the Seamaster and combines them with unique colors in a way that brings all of the good with little of the bad.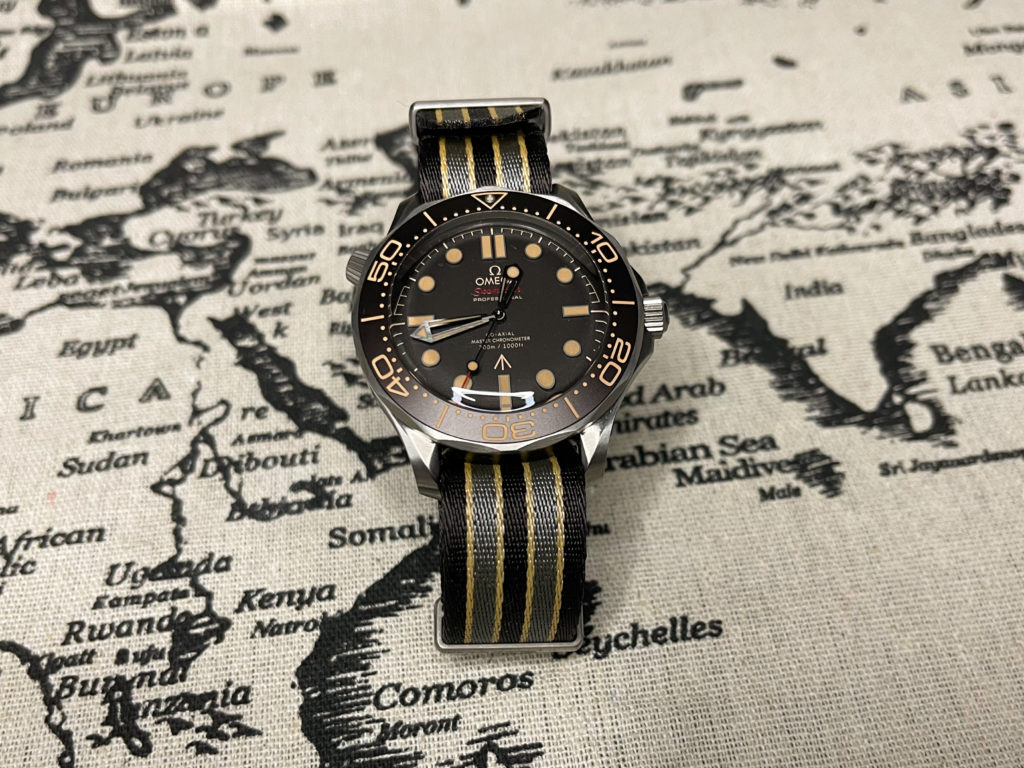 Case
Because of its extreme light weight, Titanium makes an excellent material for an everyday-wear watch. The metal also lends itself well to the no-nonsense tool watch attitude that the Seamaster is known for. Here, it's polished and brushed at various angles to create an interesting case that reflects light and catches the eye as it moves. The case's 42mm diameter places it firmly in modern timepiece territory, from a size standpoint, but its slim design makes it wearable and comfortable, no matter the setting.
Omega opted for a domed sapphire crystal, which gives this Seamaster a unique retro look and a wonderful distortion effect as the watch is moved. It's surrounded by what Omega calls a tropical brown aluminum bezel, which is meant to mimic the effects of aging on black aluminum over time. The numerals around the bezel have also been given the same effect.
Continuing the aged tropical theme, the dial is a deep brown color. The dial text is also a creamy aged tan color to match the bezel numerals, and the flash of red Seamaster text gives the watch an interesting visual appeal without overpowering the rest of the dial. 
Movement
Beating away behind the Seamaster's caseback is Omega's Calibre 8806 movement. It's an automatic movement with a co-axial escapement and a magnetic resistance of 15,000 gauss. There's a free sprung-balance with a silicon balance spring, automatic winding in both directions, and a METAS certification for accuracy. Similar to the way Rolex certifies its movements, Omega's are tested as a full watch, meaning the movement is tested individually and then measured again once the entire timepiece has been assembled. The result is a staggeringly accurate watch that retains its timekeeping abilities in a variety of settings and during heavy activity, such as while playing sports or while running from a global network of bad guys on the big screen.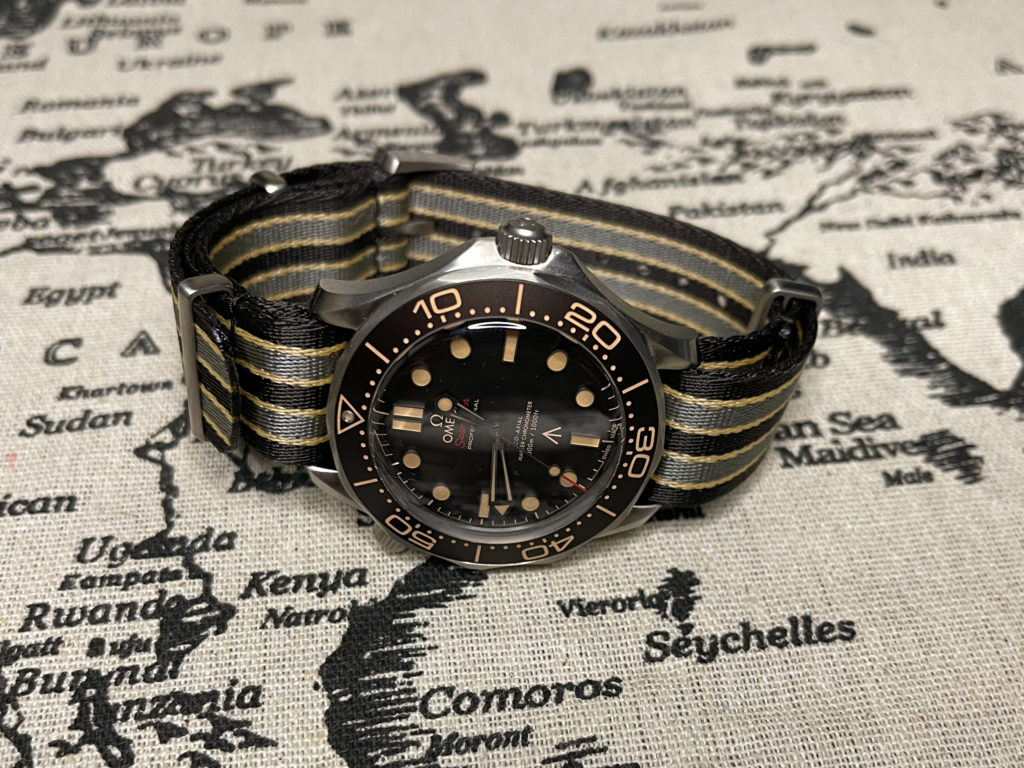 Strap Or Bracelet
This week's test watch from David came on a NATO strap, which makes it truly feather light on the wrist and a real pleasure to wear. The Seamaster can be had with a unique titanium mesh bracelet as well, which is almost cloth-like in feel and complements the serious feel of the watch perfectly.
It's hard to imagine a perfect watch. My personal preference for an everyday timepiece is to have a date, so this probably wouldn't make me the happiest long-term, but many people love the simplicity of a watch dial without a date window. If you can live without a date, the Omega 007 Edition should be at or near the top of your shopping list, because there's not much else it's not perfect at.