Patek-Philippe has had a long, quiet history of being disruptive. What do I mean? Over the decades, Patek-Philippe has created a catalog of firsts in both pocket watches and wristwatches from the late 19th century right up to the present time. Many of these "disruptors" have ended up becoming iconic models and some even end up becoming watch families.
Take 1997's Aquanaut. When initially launched, Patek- Philippe wanted to appeal to a younger, affluence-aspiring demographic. It was met with some resistance, for sure, as the "Patek Purists" recoiled at its Nautilus knock-off bezel (sans "ears") and its rubber strap. However, over 20 years later, it has become the "king of cool," housing various complications like travel-time function as well as Patek's in-house flyback chronograph.
Similarly, in 2015, Patek-Philippe launched the 5524G-001, known as the "Pilot's Watch." Although it housed Patek's "travel-time" complication, borrowed from the Aquanaut, it was labeled and placed within the family of "Calatrava," most likely due to its more "simple" case design.
At that year's Basel Watch and Jewelry Show, hanging there next to the Patek-Philippe boutique was a very large banner with the 5524G clearly meant to be "in your face." As retailers and journalists met with various Patek-Philippe personnel, there were reports of people reacting with facial expressions of disdain.
Some were overheard saying to those of their ilk who were present, "Oh my God! That is the ugliest Patek- Philippe wristwatch I have ever seen in my life!" But behind closed doors in the Patek booth the same people would discreetly lean in to the Patek representatives and say, "Can you get me one of those?"
The "Pilot's Watch" would be a polarizing timepiece, for sure. But like so many other "disruptors" in other genres – think of Punk Rock's The Clash or the artist Salvador Dali – Patek-Philippe would hit a nerve that would find acceptance within a few short years and even find that greatest of compliments, "imitators." Beyond that, Patek would begin to build a family of watches based on this clean, clear, bold design.
The 42mm case provides ample space for the Patek-Philippe Caliber 324 S C FUS, and as this year's 5520P reveals, the watchmakers in Patek-Philippe's Haute Horlogerie Atelier have their eyes set on expanding the Calatrava's Pilot family of watches.
On the wrist, the large, Superluminova-filled Arabic numbers found on the 5524G give it its signature "Pilot's Watch" look. With a profile of only 10.78mm, the 5524 wears much bigger than its 42mm diameter describes. For anyone who is in the "I don't wear anything less than 44mm" camp, I dare say that the 5524 may change your mind.
The thing that strikes you when holding the watch in your hand or strapping in onto your wrist is that this timepiece has substance. The white gold case feels solid in the hand. Many gold watches have their cases hollowed out (to cut weight, but also to save production costs) which leaves the potential wearer reflecting, "This watch feels cheap." The 5524 doesn't feel that way.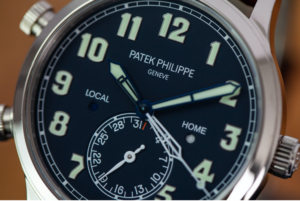 At first glance, the dial looks black. But take it out in the sunlight and you get a clearer picture. The watch dial is actually navy blue. On its stock "natural" calf-skin strap, it has a very casual-to-sporty look. Popping it on a navy alligator band changes its personality completely and gives it a "You need to take me seriously" kind of appearance.
For the person who is going to wear and actually USE the "travel time" function, let me just say that this is one of most practical travel watches out there! The two buttons on the side of the case at 8 o'clock and 10 o'clock allow the wearer to advance or retard the time with the simple push of the thumb. More importantly, the travel time hand (the lume-filled hand) activates the date, allowing IT to advance or retard as you travel. In horological parlance we refer to this as a "True GMT," rather than simply a "Dual Time," the latter keeping the date locked to home time and the second time zone being merely a second time reference.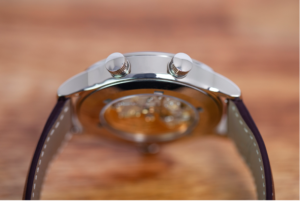 Patek-Philippe's watchmakers obviously thought about those of us who are a bit clumsy. Knowing that it would be possible – with the flick of a wrist – to accidentally change the local time, they engineered the pushers to incorporate a locking function. With merely a 90-degree turn of the crown of the pusher, the button immobilizes and locks on the current chosen hour, thus keeping the would-be traveller from missing his next flight by thinking he was an hour early when he was actually an hour late (oops!).
As with all Patek-Philippe timepieces, the 324 S C FUS movement is immaculately decorated with their customary Geneva stripes and perlage. Carefully observing the movement through a loupe allows the owner to marvel at all of the carefully chamfered and polished edges of the plates, bridges and gear works. It's hard to believe that 294 individual parts can be placed into a movement that is only 31mm wide and 4.9mm high!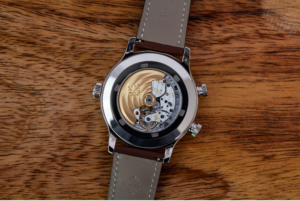 The rotor is made out of Patek- Philippe's customary 21K gold, and the movement is engineered to take advantage of unidirectional winding, which tests on the wrist have shown to provide better winding efficiency for desk jockeys and those who may be less active than bi-directional winding provides. The 324 S C FUS also uses the patented Patek-Philippe Gyromax®, which ensures a steady vibration of 4 Hz (28 800 beats per hour), as well as including Patek's Spiromax® balance spring which endows the 5524 with a power reserve of up to 45 hours and is resistant to magnetic fields, due to
incorporating silicium.
Last but certainly not least, the 5524G is stamped with Patek-Philippe's own Seal, unveiled in 2009, which covers every part of the watch, from concept to conclusion, including after sales service so that the proud owner will be assured that this timepiece will be able to be passed on to the next generation.