The World's First True "Sports Watch"
EARLY EXAMPLE FROM 1931 OF THE JAEGER-LECOULTRE REVERSO: BUILT FOR A PURPOSE
It's difficult to write or talk about a watch that has had such a massive impact on wristwatch lovers without understanding how it, and wristwatches in general, came to be. In this article, I will attempt to place the Reverso in its context within early wristwatch history, discuss what makes it a proverbial favorite among watch collectors and connoisseurs, and marvel at the genius with which it finds renewal decades after its invention.
Tracing wristwatch history to its roots, particularly for men, it's very clear that this fashion wouldn't have found acceptance if not for the military. As early as the late 1800s, English military officers began using "wristlet watches" while in combat for troop synchronization. This was a change from the use of pocket watches brought about by the clumsiness of having to pull a watch out of one's pocket while holding a sword or rifle. Although early versions were often smaller pocket watches with wire lugs attached to support a strap, manufacturers of pocket watches began to make the switch and build wrist-dedicated timepieces, as evidenced by a patent in 1893 for a watch wristlet by the Garstin Company in London, England.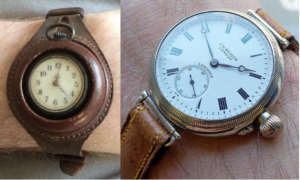 In 1904, scarcely more than a decade later, a Brazillian aviator named Alberto Santos-Dumont asked his friend, the French jeweler and pocket watch supplier, Louis Cartier, to design for him a watch he could wear on his wrist. Like the military officers before him, his hands would be occupied, and digging for a watch while seated and holding onto the steering mechanism of one of those new-fangled flying machines simply would not be practical. Louis Cartier, being a jeweler and designer, wasn't content to simply offer the boring but utilitarian round military option, so he designed a forward-thinking, 20th century industrial design. Instead of smooth, round edges like a pocket watch, Cartier designed a square case and bezel with rounded corners and visible flat-head screws. Initially this wristwatch was produced as a one-off for Santos-Dumont, but years later Cartier put the design into regular production. The 1904 Santos is credited with being the first dedicated men's wristwatch design.
Hans Wilsdor was the next wristwatch pioneer, and one who really believed in the potential mass-appeal of the wristwatch. In 1905, he set up a business in London with his brother-in-law, Alfred Davis, to begin producing and marketing them. A few short years later, he created the name Rolex for their brand, and pursued solely wrist watch designs. They found a slow but growing audience, first among women and later with men.
In 1917, Louis Cartier created a rectangular wristwatch that he dubbed "the tank watch" due to the resemblance of the watch to a military tank viewed from above. Louis Cartier felt that since pocket watches were round and bulbous, wristwatches should be more svelte and sit on the wrist comfortably and ergonomically, so a rectangular or square was his preferred shape. He even gave a prototype to the Commander of Allied Forces, General Pershing. World War 1 would end the next year, and the world would again resume celebrating life in what became known as the Roaring Twenties.
EARLY "TANK WATCH" CREATED BY LOUIS CARTIER
Although Louis Cartier designed many of the watches he sold in his shop, his watch builder was actually a Parisian watchmaker named Edmond Jaeger, who also supplied the French Navy. Jaeger sought the best movements and cases, and this put him in touch with Jacques-David LeCoultre, in the Vallee de Joux, considered one of the top movement makers in Switzerland.
Cartier's watch movements began to be supplied by LeCoultre & Company from 1907, even signing an exclusive contract with the company for a 15-year period, much like Rolex did with Aegler.
It is within this context that LeCoultre & Company was supplying "shaped" movements (non- round) to Cartier for his wrist watches, which had become quite fashionable in the budding Art Deco era, while continuing to supply round movements mainly for pocket watches to other companies (Patek-Philippe and Audemars-Piguet being two of the company's main contracts). In 1928, Jaeger and LeCoultre formally sealed their partnership resulting in the name combination, Jaeger-LeCoultre.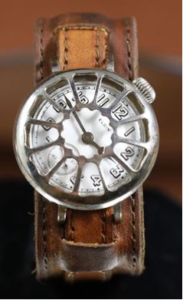 History recounts the tale of a British officer complaining to a local jeweler in India that he and his fellow officers playing polo during leisure time would occasionally break their watch crystals due to a mallet strike, a ball strike or being thrown from their steed. This was before the use of synthetic sapphire in watch crystals. One option for protecting a watch which became popular during WWI was a hinged, protective cage, but those were clunky and the face was obscured by the protective bars.
This jeweler mentioned it to Cesar de Trey, the importer of Jaeger-LeCoultre to the region; de Trey took the query back to the Vallee de Joux and asked the Manufacturer to consider looking into it. Jaeger-LeCoultre hired a French case designer, René-Alfred Chauvot, who decided to create an avant-garde case design.
Chavout's idea was to take a square design and have the case slide on a track, pop out and flip over to reveal a solid, flat, steel protective cover. Although he had tinkered with a few other designs, the smooth movement of what we now know to be the Reverso won out. He submitted his design to the French Republic's patent office and was awarded his patent on March 4, 1931.
ORIGINAL FRENCH PATENT AWARDED MARCH 4, 1931 (THE SWISS PATENT CAME LATER)
Since Jaeger-LeCoultre wanted the Reverso to be in the Art Deco style, 2 modifications were made to Chavout's originally patented case design. The "Golden Ratio" of 1:1.68~ was used (Width vs Length) for the final shape, and the popular parallel Art Deco lines, known as "gadroons," were placed at the top and bottom of the swiveling case.
Jaeger-LeCoultre purchased a movement from Tavannes for the first year of production. From 1932 onwards, Jaeger-LeCoultre housed their own movements within the Reverso, using various case sizes for the men's and women's watches. Originally, all Reversos were housed in steel – called "staybrite" – which could hold up against the knocks of polo playing. Over time, the options of solid gold or steel & gold combinations were added to the Reverso collection. Most of these wristwatches were mounted on straps of various materials, but eventually a bracelet option was also offered.
When the first Reverso was released, its popularity was immediate. However, as the world was enveloped in World War II in the late 1930s, luxury wristwatch designs gave way to more utilitarian designs and the Reverso was eventually dropped from Jaeger-LeCoultre's product catalogs.
One creative by-product of the design was that it provided a flat metal canvas for enameling or engraving. Officers began to request their family crests be painted or engraved onto the backs of their watches. Indian royalty had images of wives and of the Hindu deity Krishna enameled. Others had monograms or initials engraved. Personal artwork of this nature creates a truly unique family heirloom.
Early enamel work for Indian Royalty (L)
Over the years since the original dial came out, various dial colors, fonts, and indices have been chosen. Most notably, a new burst of creativity came about in 1994, for the 63rd birthday of the design.
In 1994, Jaeger-LeCoultre designed a movement that functionally operated on both sides. Putting it into a Reverso was the logical choice and "Voila!" The DuoFace was born. Although the DuoFace contains only one movement, the watch allows for two different dials (two different watches, really) to show two different time zones while traveling. The front shows the time at home, with hands dead-set in the middle of the dial. Placing a reversing gear just above the center of the movement allows the hands on the back to spin the opposite way. Hence the hands on the second face are slightly off-center. The hat trick was in placing a clutch into the movment with which you could separate the hours on the second face by depressing a small corrector on the side of the case with a toothpick to display local time. It was sheer genius and won the "Watch of the Year" award in Germany's Chronos magazine's reader's poll that year (The English translation of Chronos magazine is America's Watch Time magazine).
Original 1994 DuoFace design with recessed corrector on side of case (L)
Second-generation 2004 DuoFace with push-button corrector on side of case (R)
The DuoFace was only the beginning of a new era for Jaeger-LeCoultre's Reversos. After 1994, the movement makers at The Grande Maison, as Jaeger-LeCoultre is known in the Vallee de Joux, used the back side of the movement to produce watches with chronographs, world timers, perpetual calendars, and tourbillons. For the 85th anniversary of the Reverso, Jaeger-LeCoultre even presented a seventy-five-piece limited edition run of a three-faced watch using a single movement.
Reverso Triptyche
Front: sidereal time, reserve de Jour, 24-hour indication, tourbillon with Robin Escapement Back: sunrise & sunset, celestial time in hours, celestial sky chart, zodiac, equation of time Cradle: perpetual calendar using world's thinnest QP module at the time.
The movement is housed in the main, reversing case (no movement under QP module)
I could go on and on due to the fact that well over 50 different movements have been launched in the Reverso case. This author's favorite lady's design is the Reverso Duetto, which debuted two years after the DuoFace, and which provides its owner with a casual design on the front and a gorgeous diamond watch on the back. Truly, 2 watches in one!
1996's original steel Duetto design with the same time on each side but two personalities.
So much more can be written about the Reverso. For example, Jaeger-LeCoultre supplied eight Reverso cases to Patek-Philippe (who shows two of those cases in their museum in Geneva). There's a fascinating story surrounding Jaeger's decision, to halt production of the Reverso for a period of over 30 years. During that time, Jaeger-LeCoultre supplied Reverso cases to Cartier, and allowed Hamilton and other companies to use the case design in their own collections. In 1972, while on a tour of Jaeger's factory, an Italian shop owner stumbled across 200 empty Reverso cases. This lucky discovery is credited with the Reverso's revival. Those are stories for another time.
I honestly doubt that there has been a single case design from any other brand with as many case sizes, case materials, dial designs, and movement variations as the Reverso. And year-after- year, Jaeger-LeCoultre continues to invent and produce new models that capture the imaginations of the connoisseurs who collect them.
THE JAEGER-LECOULTRE REVERSO TRIBUTE MOON DUOFACE FEATURING THE DATE, DUAL TIME ZONES, AND MOON PHASES.
One last thought: it is the opinion of this writer that if you're going to wear a dress shirt with long sleeves, a rectangular watch peeking out with its sides running parallel to the cuff is about as classy and sharp-looking as it gets. Especially when it's personalized. After all, each personalized Reverso becomes a one-of-a-kind… and in a sea of copycats, who doesn't want some originality to separate themselves from the crowd?